12 Super Tips to Work from Home and be more productive
Establish Schedule
The fact that you work from home does not take away from the seriousness of the matter. Act as if you were going to work in an office, even if you work remotely from home.
Go to bed and get up at the same time. Start and finish your work at the same time. Have your lunch at the same time. And I could go on…
We all have an internal clock and we have nothing to gain by putting it on the wheel of fortune because sooner or later it will take its toll.
Dress as if you were going to work.
I know it's tempting to stay in your pajamas and work from your bed all day… But the problem with this is that you will feel sluggish and unmotivated to work because you are sending your brain an incongruent message:
«Brain! I want you to work and be productive, but I'm in the same place where I'm just resting and I'm wearing the same clothes I wear to throw out the slack.»
Well, you kind of don't, do you?
So take a nice bath and dress as if you were going to go out and you'll see how you'll feel more prepared to start the day with all the attitude.
You'll be surprised how a simple outfit can change your mood for the better.
Coronavirus work from home home office quarantine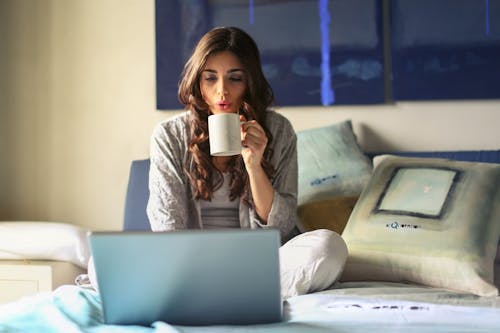 Have a designated space to work
Create your own workspace with everything you need and where you feel comfortable and can focus and give 100%.
Make sure this workspace is a place with good lighting, ventilation and no noise so you can concentrate.
Do whatever you have to do to make this workspace pleasant. You can light a candle, play classical music, use aromatic oils and organize it in such a way that it looks clean, nice and tidy.
Establishing a designated space tells your brain that it is in the space where it should focus and work productively.
Tip: Make sure that when you use the computer at your desk you have correct posture so you don't hurt your neck or back.
posture-correct-posture-computer-laptop
Credit: TICbeat
Avoid multitasking at all costs.
Several studies have shown that multitasking or doing several tasks of different kinds «at the same time» affects productivity because of the accumulated time people lose when switching from one activity to another and refocusing.
Start one task and finish it before moving on to the next. One thing at a time.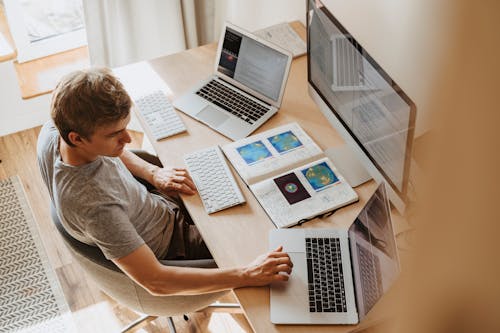 Work in blocks of time by grouping similar tasks together.
This is one of the best time hacking tips! And also one of the most effective.
Batching or grouping tasks that involve a similar process to each other and setting blocks of 25 to 50 minutes to accomplish them is an excellent way to increase your productivity.
For example, from 9:00 to 9:30 AM you have 30 minutes to answer ALL the emails that came into your inbox in the last 24 hours. And after that, you focus all your attention on another task with its own block of time.
If you have to make calls, likewise, set 40 minutes to make all your calls in that time slot.
The brain works best when it performs tasks of the same nature, one after the other, repetitively. And when you add a time limit to that, you feel the need to stick to it. That's why, even if it sounds exaggerated, a stopwatch can become your best ally.
People run out of time because they are not aware of it.
Do not mix personal and professional responsibilities
If your family members are at home while you work, it may be tempting to take breaks to talk to them or be interrupted while you work.
But you need to talk to them and explain that it is important to you that they respect your work schedule so that you can finish your work and then be with them without pressure or regret of any kind.
Likewise, when you are at home you may feel the urge to do certain household chores such as laundry, washing dishes or cooking. But don't do it!
When you start mixing work time with other non-professional activities, you are breaking the line that separates your personal life from your professional life. And chances are, one of them will end up being affected.
If you don't set boundaries and balance, no one else will do it for you.